PTE Study Blog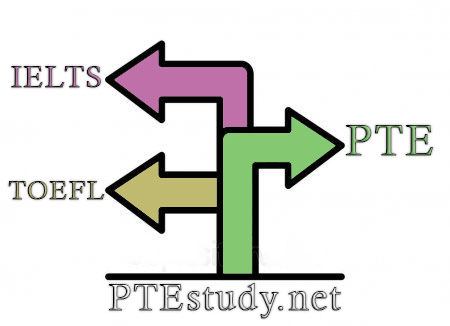 The Difference between PTE, TOEFL, and IELTS
English Language Proficiency is one of the vital criteria for international students wishing to pursue their studies at an English-speaking Institute in any foreign country. PTE, TOEFL, and IELTS are three major English Language Proficiency test.
There are three major English language proficiency exams that are used in order to test an applicant's ability to speak in English. In the past, the Test of English as a Foreign Language (TOEFL) and the International English Language Testing System (IELTS) was the most common.
PTE Academic
In 2009, Pearson–one of the most prominent educational companies and publishing houses in the US–launched its own Proficiency Exam: the Pearson Test of English, Academic (PTE Academic).
IELTS [ International English Language Testing System ], TOEFL [ Test of English as a Foreign Language ], and PTE [ Pearson Test of English ] are widely accepted standardized tests measuring English language ability for non-native English speakers.
All three tests are designed to test students' English language, so they are similar in many ways but also different in many ways. TOEFL and IELTS are the most popular tests which are accepted by maximum institutions globally, while PTE is the new entrant in this field. The marking system and scoring system is a little bit different from each other. Students should select a test that suits them to practice in terms of test structure and their comfort to prepare and perform for the same.
All institutions enrolling international students have set criteria in terms of English language proficiency. Though the majority of institutions accept some or all the tests, it is the policy of a specific institute which test(s) to accept. Students should refer to the admission criteria and guidelines of a particular institute in which they wish to apply before finalizing which test they should appear for.
Score Comparison
It has been observed that students wish to compare scores of these three tests while finalizing the preparation and selection of a test. Many institutions ask for equivalent TOEFL or PTE scores when one has given IELTS or vice-versa. Sometimes a comparison is required in order to check admission eligibility for a specific institute.
As the maker of the TOEFL test, ETS has developed some tools that make it easier for students to compare TOEFL iBT scores to the IELTS Academic Module. and the Common European Framework of Reference (CEFR). Click here to refer more details
Pearson Inc, the owner of PTE Academic has also released some comparison tools to compare the score of PTE against IELTS & TOEFL. Click here to refer more details
Here we have prepared a Score Comparison Chart to help you compare the score of all the three tests.
| PROFICIENCY LEVEL | IELTS | TOEFL | PTE |
| --- | --- | --- | --- |
| EXPERT | 9 | 118-120 | 89-90 |
| VERY GOOD | 8.5 | 115-117 | 83-85 |
| VERY GOOD | 8 | 110-114 | 78-82 |
| GOOD | 7.5 | 102-109 | 73-77 |
| GOOD | 7 | 94-101 | 64-72 |
| COMPETENT | 6.5 | 79-93 | 58-63 |
| COMPETENT | 6 | 60-78 | 50-57 |
| MODEST | 5.5 | 46-59 | 42-49 |
| MODEST | 5 | 35-45 | 35-41 |
| LIMITED | 4.5 | 32-34 | 30-34 |
| EXTREMELY LIMITED | 0-4 | 0-31 | 0-30 |
Students can also refer to the below chart prepared and released by Pearson.

Test Availability
Is the TOEFL or IELTS available to closer to you? The TOEFL is available in 4,500 centers in 165 countries, whereas the IELTS exam is available in 1,100 centers across 140 countries. The newer PTE is only available in 250 testing centers in 50 countries. It may also be the case that one test has more convenient test dates available for you.
Try PTEStudy.net Free Mock Test
Free practice on PTEStudy.net