Read aloud
Communicative skills tested: Reading and speaking.

Subskills tested: Identifying a writer's purpose, style, tone or attitude; understanding academic vocabulary; reading a text under timed conditions.
Speaking for a purpose (to repeat, to inform, to explain); reading a text aloud; speaking at a natural rate; producing fluent speech; using correct intonation; using correct pronunciation; using correct stress; speaking under timed conditions.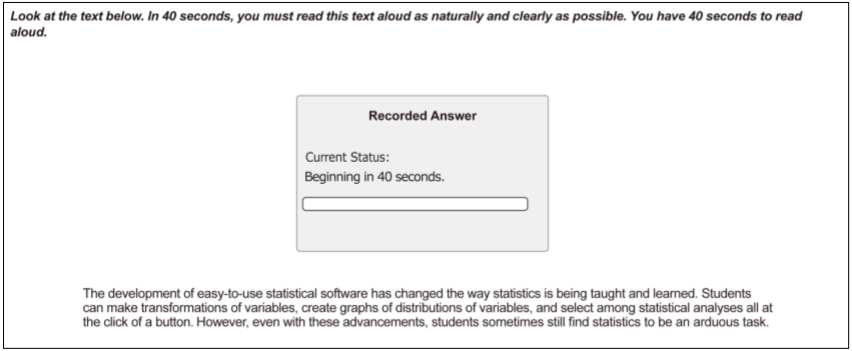 Scoring:
Communicative skills

Reading and speaking

Enabling skills and other traits scored

Content:
Each replacement, omission or insertion of a word counts as one error
Maximum score: depends on the length of the item prompt
Pronunciation:
5 Native-like
4 Advanced
3 Good
2 Intermediate
1 Intrusive
0 Non-English
Oral fluency:
5 Native-like
4 Advanced
3 Good
2 Intermediate
1 Limited,
0 Disfluent
Source: https://pearsonpte.com